This is the build history of Azarov's Axe. If you would like to see the finished replica prop, click here.
---
Sep 23, 2016, 11:03 PM – Dead By Daylight – The Wraith
My favorite killer from the game Dead By Daylight is the Wraith (as far as character design goes) so I thought I'd give this costume a go for Halloween while practicing my newfound Zbrush skills.
The costume will consist of..
-muddied mask/face with sticks atop head similar to a crown
-glowing orbs for eyes
-a double poncho with burlap scarf/neck thing
-bandage wrapped waist and legs with more mud texture on limbs
-various white paint markings and blood splatters
-azarov's axe
-two leather pouches (one for his bell I'd assume?)
-bangle bracelets of varying sizes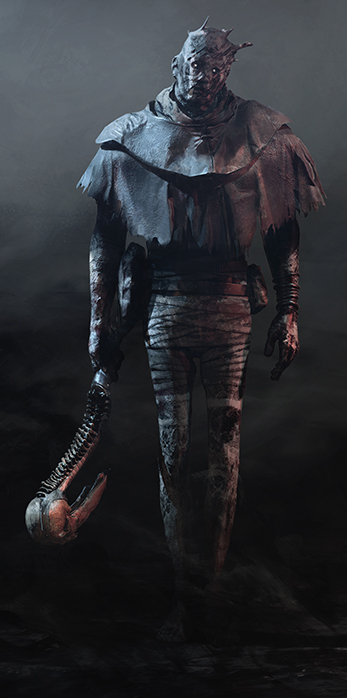 I've modeled the axe with both Maya and Zbrush using as much reference as I could. Scaling was giving me issues until I realized the skull is not the same anatomical size as a normal head. Its a bit smaller when you compare it to his actual head.
Here are the pieces that I have printed out so far..just a few more vertebrae and a whole lot of sanding.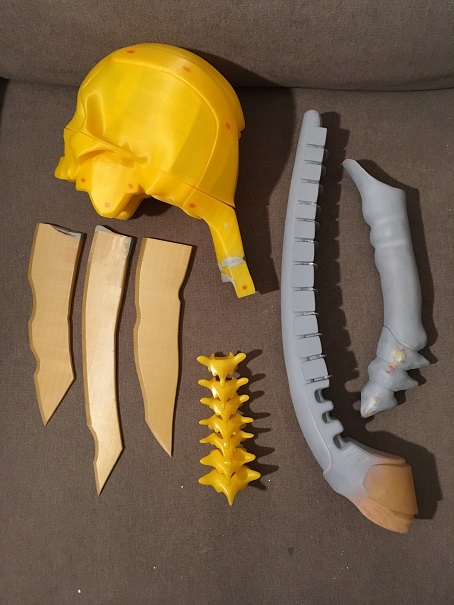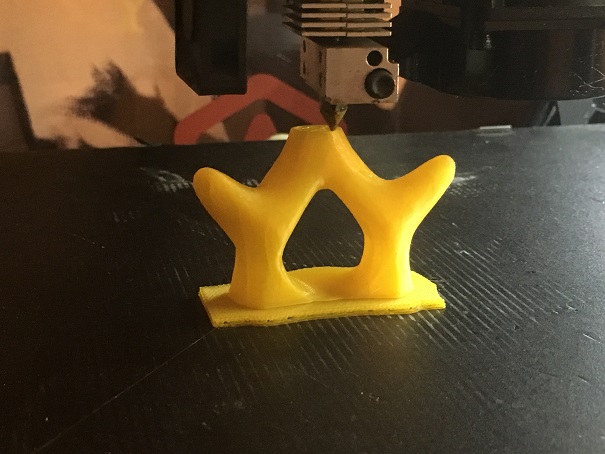 I've ordered 8 lbs of Platsil Gel-00 to make the mask, which I can start on as soon as it arrives.
---
Sep 25, 2016, 8:58 PM – Re: Dead By Daylight – The Wraith
I've been adding texture to some of the printed parts with modeling putty. The shaft that holds the skull and spine has a wooden handle so I tried to emulate a grainy texture.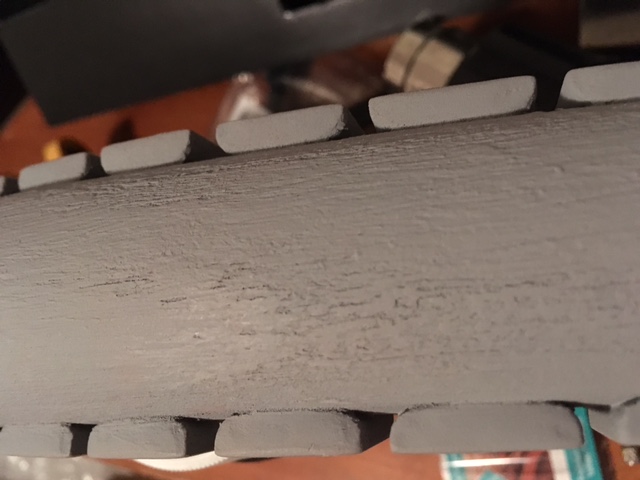 Based on one image of the axe, it looks like there's a weathered metal texture on the blades with lots of scratches and pock parks from who knows what. Probably from all those missed hits on survivors that end up hitting the barricades.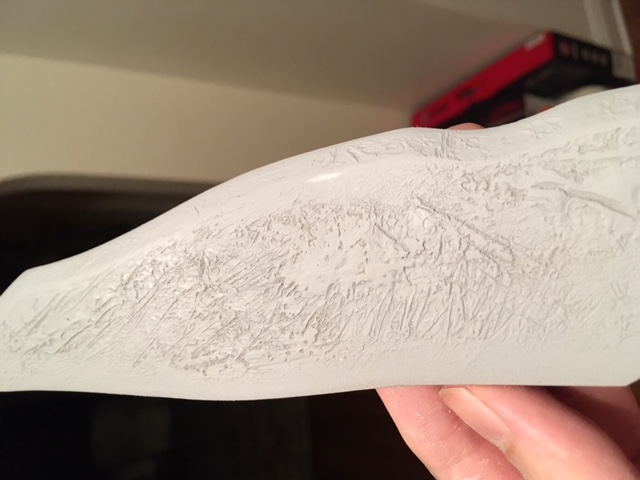 Everything that is made from bone will be textured similarly to this..I'm not 100% sure I like it yet (as it looks awfully similar to the wood grain texture) but I'm still testing materials.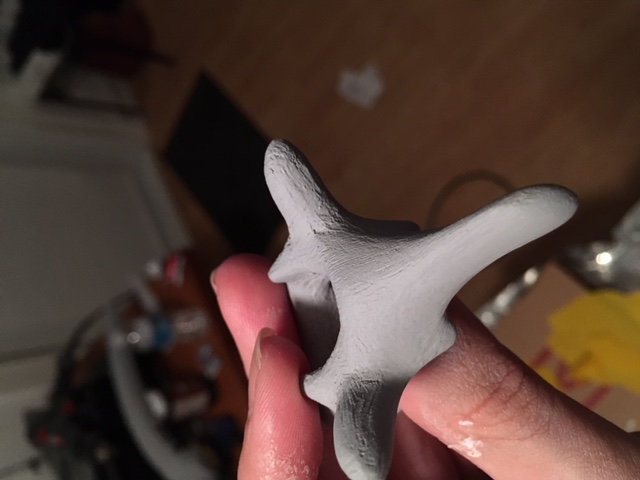 ---
Sep 26, 2016, 10:45 PM – Re: Dead By Daylight – The Wraith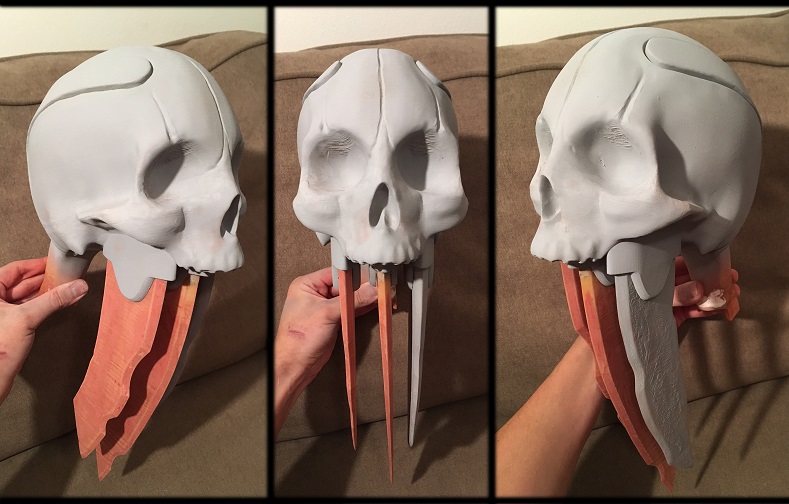 Had to redo the blades because they were not fitting inside the brackets correctly, but now they are pretty snug.
---
Sep 28, 2016, 5:48 PM – Re: Dead By Daylight – The Wraith
Assembled the grip.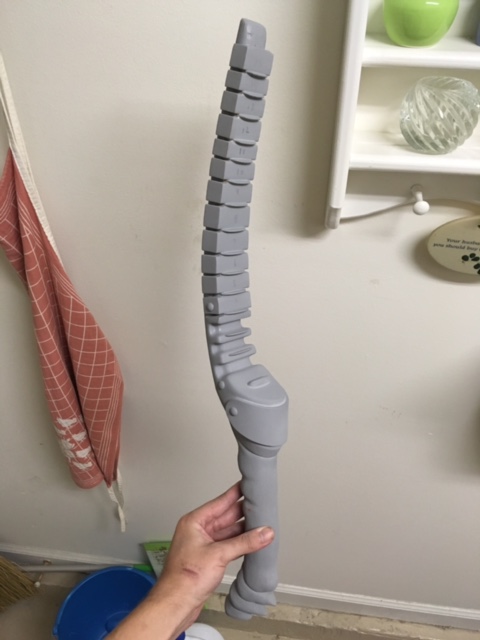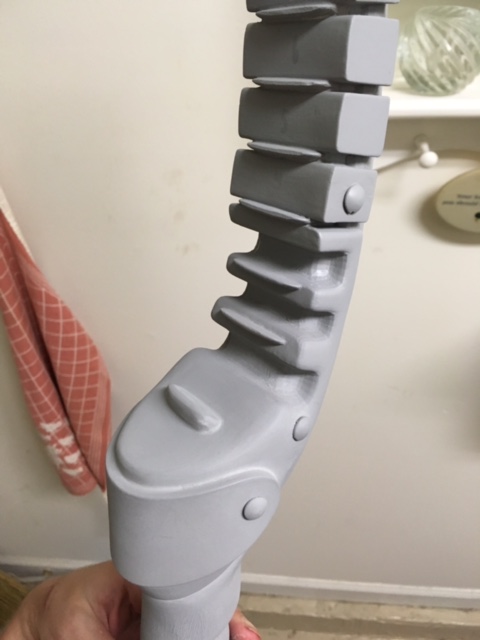 I don't have to worry about smoothing the inside of those three slots because that is where the bottom vertebrae fit into, which is a relief since it is very difficult to get in there with sandpaper.
---
Sep 28, 2016, 9:09 PM – Re: Dead By Daylight – The Wraith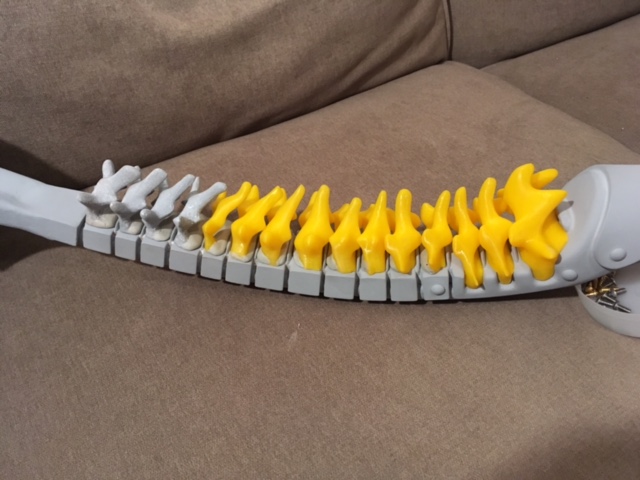 Just 10 more to go
---
Oct 4, 2016, 12:15 AM – Re: Dead By Daylight – The Wraith
Small update on the molding process..
I'm doing a 2-part mold using polytek 74-30 for the blades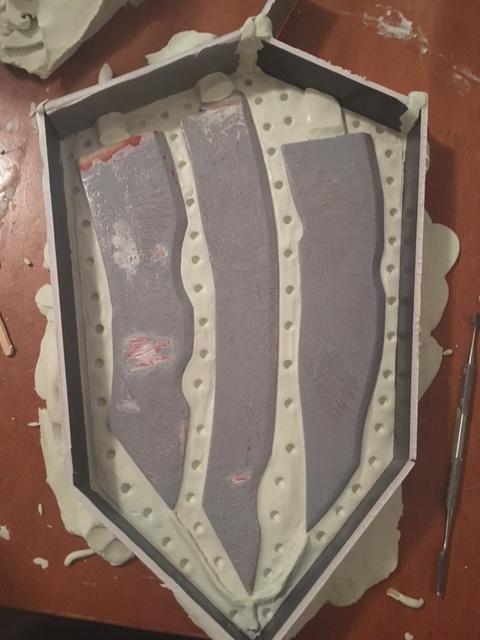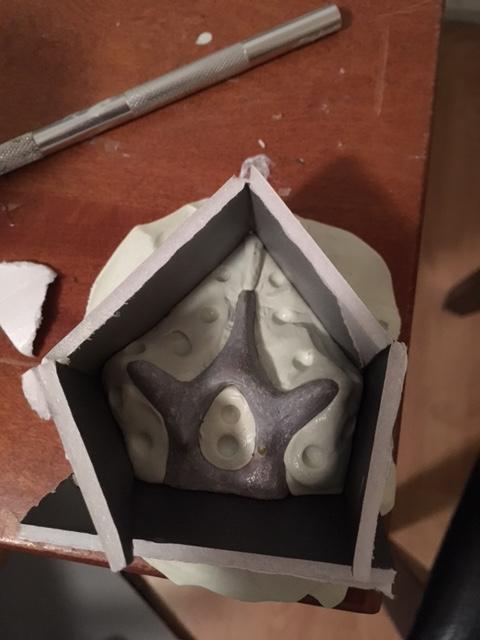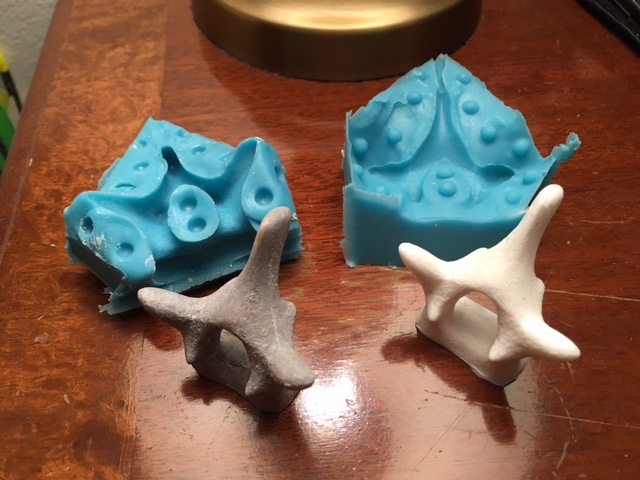 It came out really well though! Just have 24 of these buggers to repeat the process to.
---
Oct 11, 2016, 6:31 PM – Re: Dead By Daylight – The Wraith
I finished detailing the skull today. This included sponging texture on as well as adding rivets/screws. It was probably my favorite part of this entire build.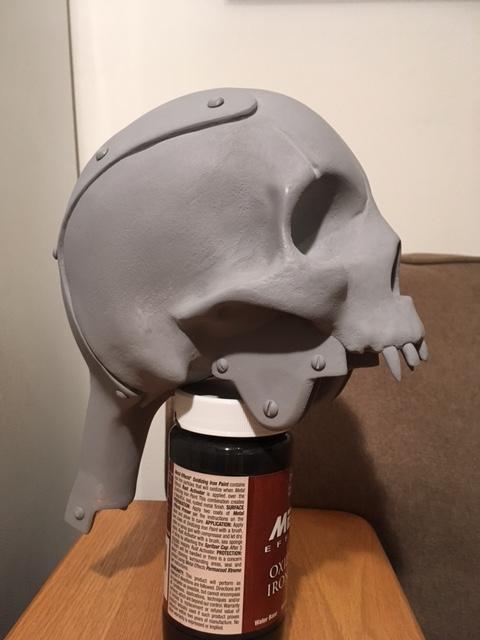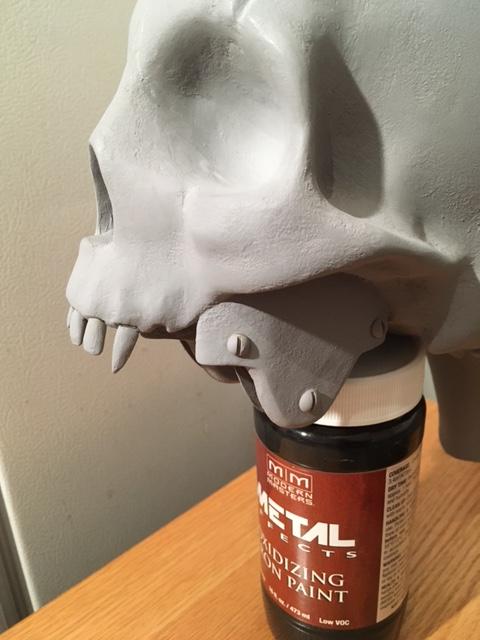 ---
Oct 16, 2016, 11:55 AM – Re: Dead By Daylight – The Wraith
Finished a few more molds for the vertebrae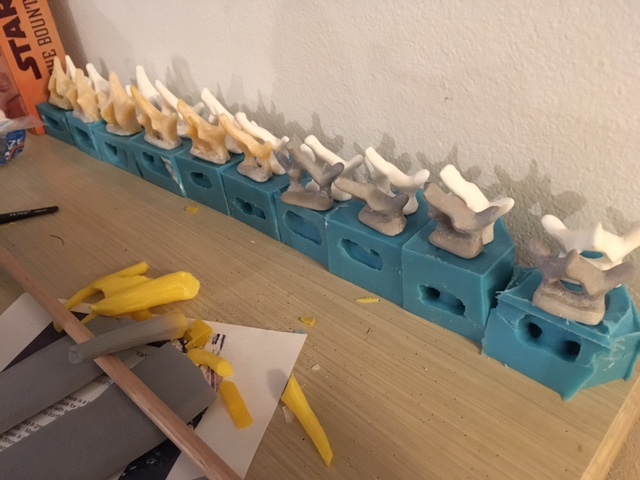 I traced the outline of the handle onto some foam board, and sunk the handle into it to act as support for the parting line so I wouldn't have to use so much clay. The only issue was that it required support underneath the foam board which was a pain to support evenly because the piece I used was a little warped already.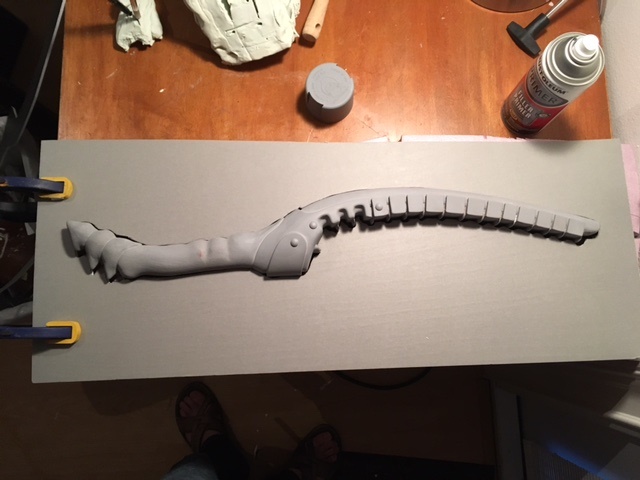 So I cut out the outline again in some pink insulation. That worked out much better so I clayed up the edges, poured the silicone and successfully got one half done. This was a big step for me because I normally run into issues with shapes this big.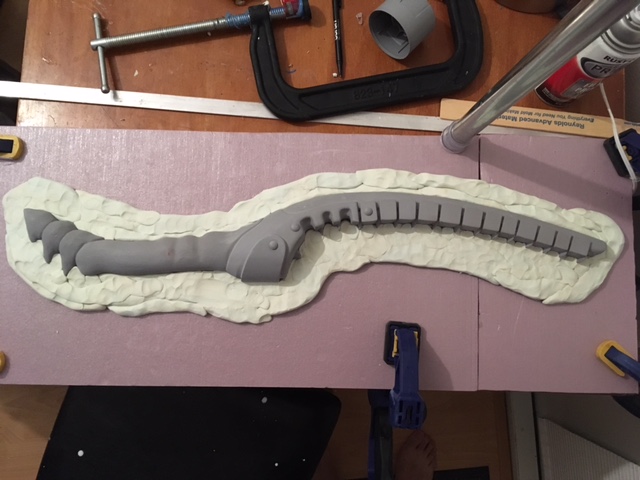 Bonus trapper mask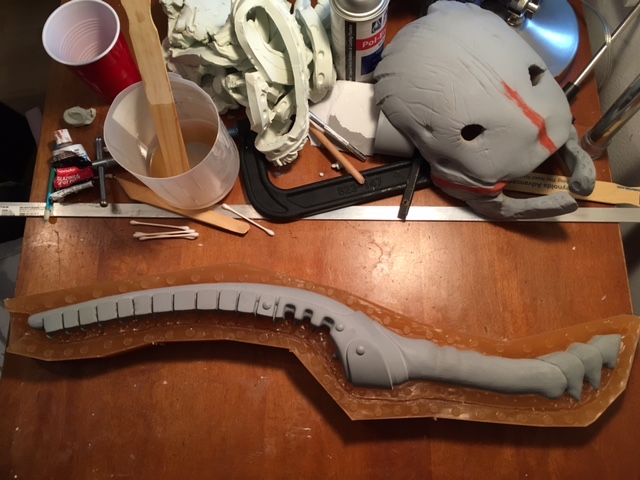 Overall I'm very pleased with molding so far. I just have to do the other half of the handle and then mold the skull and I'll be ready to cast and assemble parts.
---
Jan 16, 2017, 10:52 AM – Re: Dead By Daylight – The Wraith
Started to paint everything. I also made a stand for it out of metal pipe, melamine board and some 3D printed parts.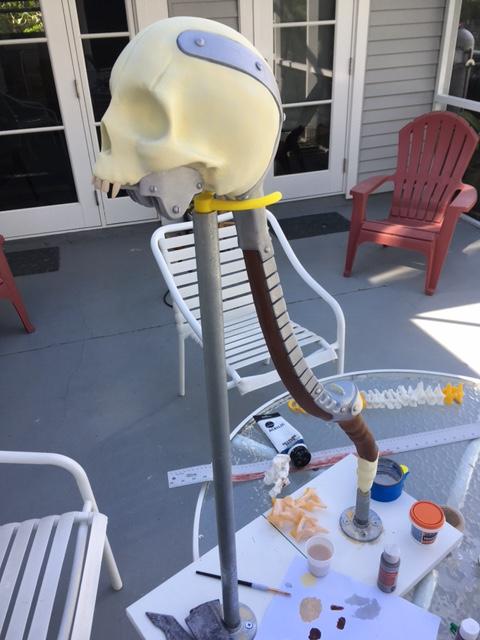 ---
Jan 19, 2017, 10:04 AM – Re: Dead By Daylight – The Wraith
Did a little more painting on the skull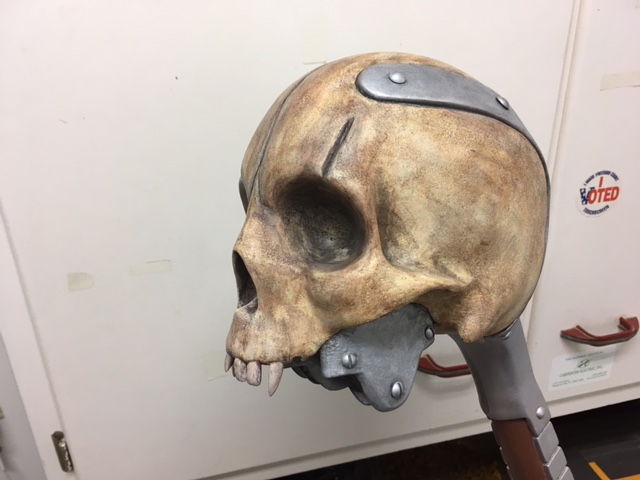 Next up is my favorite part..adding the blood splatters
---
Jan 24, 2017, 11:10 AM – Re: Dead By Daylight – The Wraith
The vertebrae are now all painted up.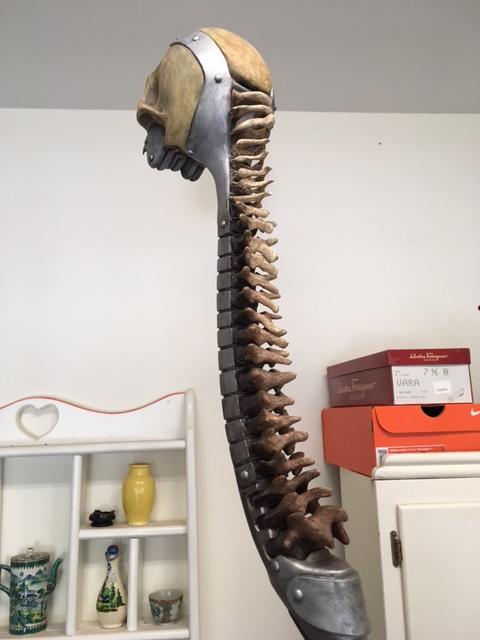 Still waiting for my order of Tamiya Clear Red paint to come in for the blood..
---
Jan 26, 2017, 3:44 PM – Re: Dead By Daylight – The Wraith
Flicking blood onto this thing has been most therapeutic..